Every week or so, I send out an "event" to consulting clients that might serve as a taking off point for conversation. These are loosely assembled pieces of research on a particular topic that come in the form of exhibition releases, video or audio lectures or conversations, articles, written works, pieces of music, etc. with subject matter including but not limited to art, music, performance, literature, culture, neuroscience and creativity.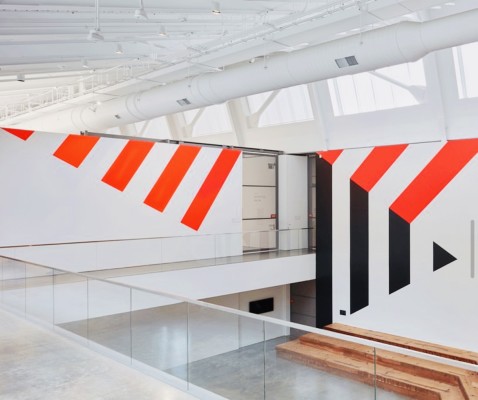 Barbara Stauffacher Solomon at Marin MOCA.
ART OF THE WEEK LIST
5/6/23 Lichen Museum: A. Laurie Palmer. Reviewed by Brian Karl
4/15/23 The Dust: Christopher Chang and Dust Breeders: Duchamp & Man Ray
4/8/23 Supergraphics: Barbara Stauffacher Solomon & Nellie King Solomon at Marin MOCA
3/18/23 Hayv Kahraman: Painting/ Neurosculpting
3/5/23 Alex Katz
2/28/23 David Altmejd
2/10/23 Mark Bradford in Mexico
1/19/23 Theaster Gates/bell hooks
1/5/23 Lian Zhang
12/29/22 Art & Shamanism. Marina Abramović in Brazil
12/8/22 Hamid Drake: Percussionist Extraordinaire
12/2/22 Drum Listens to Heart at the Wattis Institute
11/17/22 Jerry Saltz: Art is Life (new book)
11/13/22 Patti Smith: A Book of Days
11/3/22 Collapsing Colonialisms: Ranu Mukherjee
10/26/22 Song Dong + Family
10/11/22 Photographer Linda Troeller
9/29/22 Serena Cole, Painter
9/22/22 Abstraction: Erika Ranee // Cordy Ryman
9/15/22 Michael Heizer's City
9/12/22 Hidden in Plain Sight: Fore Edge Paintings On Books
8/22/22 NYTimes Critic Roberta Smith on Tionia Nekkia McClodden "Her Art Comes Without Trigger Warnings"
8/9/22 Hilton Als on Diane Arbus
8/2/22 There are stars exploding around you… Ragmar Kjartansson
7/31/22 Guadalupe Maravilla: The Sound of Healing
7/17/22 Natalie Ball "Shed a Tear, Running Deer"
7/8/22 "Why Write?" Elisa Gabbert. Paris Review
7/7/22 Joan Jonas Performances/ Feminist Art/Organic Honey
6/22/22 (Un)Monumental. David Hammons/Gordon Matta Clark
6/15/22 Printmaking Focus
6/12/22 Mind-Wandering Between Memory and Creativity. Columbia University: Society + Neuroscience Center
6/4/22 Wangechi Mutu: Between the Earth and the Sky. Studio Visit Nairobi
5/28/22 Artists' Books/Printed Matter/ Sol LeWitt
5/19/22 Murmurations //Sound Artist Lea Bertucci
5/15/22 Wendy Red Star: American Progress
5/5/22 High Desert Test Sites HDTS 2022: The Searchers
4/29/22 Mystery School: Phillip Greenlief/David Boyce. Free jazz/improvisation
4/20/22 Francis Alÿs: Children's Games at the Venice Biennale
4/16/22 William Kentridge: Sibyl
4/06/22 NYC, Whitney Biennial, Fred Moten. The Agreement: Chromatic Presences curated by William Corwin at Zürcher Gallery
3/25/22 Land Art Exhibition. Nevada Art Museum. Performing Land: Towards an Indigenous Future: Raven Chacon and Cannupa Hanska Luger 
3/18/22 Lauren Halsey's LA/NY potent practice of Art and Activism!
3/9/22 Ukraine…musicians, DahkaBrakha; writer/photographer Yevgenia Belorusets and @creativesforukraine
3/3/22 Ladders Into Uncertainty. Neuroscience, creativity and change. Beau Lotto, professor of neuroscience at the University of London, visiting scholar at NYU and founder of the Lab of Misfits, a neuroperception creative studio that exhibits in public art installations.
2/22/22 Maja Ruznic
2/16/22 Meow Wolf: Creativity that Breaks Time and Space
2/9/22 Jeff Gibson: Punching Bags and Ghost Dance Shirts that Deflect Bullets
1/26/22 Desire is Data. Art Events of the Week x2! Conversations: Nikita Gale/Cameron Shaw & Rebecca Solnit/Catherine Opie
1/19/22 Catherine Opie in Conversation with Christopher Hawthorne, Carolina Miranda
1/7/22 Rob Reynolds
12/29/21 Joan Didion
12/22/21 Alejandro Almanza Pereda. Cherries on Top and Also Floating: Unmonumental Sculpture
12/15/21 Roni Horn: Library of Water
12/9/21 Everything is Political. Ai Weiwei and Anish Kapoor
12/1/21 Laurie Anderson. Broadcast: The City: Politics, Stories, the Audience, Prisons, Teachers, the Imaginary, the Dreamlike and the Invisible.
11/26/21 Laurie Anderson: A Perpetually Cresting Wave
11/16/21 Taravat Talepasand
11/8/21 Guillermo Galindo: Sonic Borders